About Us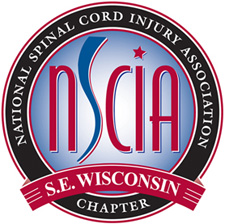 Our Mission
The mission of the NSCIA-SWC is to assist people who have some degree of paralysis through injury or disease with a goal of returning them to a life of dignity, self-confidence and independence in a community that is all inclusive.
Our Key Values
Our Chapter Values help to define the activities of our organization and provide direction to the board of directors on the allocation of our resources.
To best serve our Mission, we believe:
The most valuable resource we can have is the knowledge and experience of our members and volunteers.
To be most effective in our community we need to have a strong and diverse base of members who are SCI individuals, individuals & organizations with the same objectives as ours, and corporate sponsorship.
Education, awareness, and peer advising is one of the most important services we can provide.
Resources are best used on serving one or more of our primary objectives.
Our Primary Objectives
As with all organizations, our resources are limited, so we cannot meet all requests for assistance or contribute to all the causes we believe in. To help guide our focus we have identified the following primary objectives that resources will be allocated to.
To provide counseling and advice to newly injured individuals and their families to help them overcome the fears, doubts, and numerous obstacles facing those with spinal cord injuries.
To provide education and prevention services to the youth in our community to raise awareness of spinal cord injuries and the activities that can lead to SCI.
To provide services and activities to our members to help build a strong network within our community, and to assist those in need.
To act as an advocate on behalf of our members to help make sure public places are accessible and they are not discriminated against.
To provide funding and assistance to research efforts that are striving to find a cure for spinal cord injuries.
The National Spinal Cord Injury Association of Southeastern Wisconsin is a member of Community Health Charities (CHC). We thank CHC and the generous sponsors that support us in our Mission.
Annual Report & Financials
NSCIA-SWC must have sufficient financial resources to carry out our mission and build for the future. By being financially responsible, NSCIA-SWC will be able to manage changes in funding and hardships with minimal disruption, while still delivering on our mission promise to the communities we serve.
To see our current Annual Report and audit statements, click on the following links.
2016 Annual Report
2016 Audit Report
2016 Form 990
2015 Annual Report
2015 Form 990
2014 Annual Report
2014 Audit Report
2014 Form 990
2013 Form 990
2012 Form 990

Donate to NSCIA-SWC to
help provide critical services and aid to people with
spinal cord injuries.
Please click the button
above or follow this link
for more information.

Upcoming events hosted
by NSCIA-SWC:

Wheels & Heels Ability Fest Friday, July 20, 2018

Annual Picnic - Saturday, Sept. 15, 2018 -Noon - 4pm
Holler Park Lodge