Welcome to the home of the Southeastern Wisconsin Chapter of the National Spinal Cord Injury Association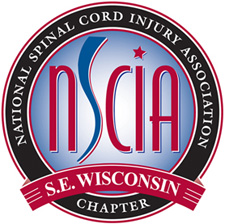 Welcome!
Join runners, wheelers and walkers at the 31st annual
Wheels & Heels
5K Run/Walk/Roll and AbilityFestUSA on
Sunday, September, 20, 2020
(pending Covid-19 impact schedule adjustments).
Participants will enjoy the beautiful view of the Milwaukee lakefront.
Additional runner perks:
• T-shirts
• Fruit and water before and after the race, with a water stations on course
• Medals for the top 3 racers in each division
Proceeds from the Wheels and Heels will benefit the National Spinal Cord Injury Assn of S.E. Wisconsin; a 501(c)(3) nonprofit organization.
Our local chapter is looking for volunteers to help support our Mission. Please send us an email if you can spare a few hours a month to help someone become more independent. We have a wide range of volunteer opportunities to meet your interests!
Please consider supporting us
through sponsorship, donations, volunteering or just plain participation.
Contact us
to find out more information.
Donate to NSCIA-SWC to
help provide critical services and aid to people with
spinal cord injuries and disorders.
Please click the button
above or follow this link
for more information.

Upcoming events hosted
by NSCIA-SWC:

Wheels & Heels Run/Walk/Roll -
Sunday, Sept. 20, 2020 (11:00 am start)
Ability Fest USA -
Sunday, Sept. 20, 2020

Annual Picnic -
Saturday, Oct. 17th, 2020 - 11 am to - 3 pm
Wil-O-Way Underwood Park